O
n the Death of Elizabeth Murray

"T
here are so many separations in every artist's life — the projects that live only in the mind,
the ones that go no further than a few sketches and, of course, the divorce that takes place
when a work is really and truly finished and begins to live on its own. For those of us who
celebrated the life and work of Elizabeth Murray, who died of cancer on Sunday at age 66,
we mourn our separation from both.

"Her paintings will be with us for years and years to come, teasing us, resisting us, giving life to
something in her that could only find expression in an almost erotic sense of color and shape.
People will come upon her work and wonder about the woman who made it, and she will take
the place that every artist eventually takes — overshadowed by the constructs of her imagination.

" But we — many of us New Yorkers — have been lucky to have known the woman herself.
I have never met anyone in whom frankness and delicacy combined in the way they did in Elizabeth.
Her eyes were very bold, and her face seemed constructed to make sure you couldn't miss that boldness.
There was a wildness blowing through her, and to talk to her was to feel that she was consciously effacing,
for your benefit, something that would unhinge you if she let it out, which she did in her work.
That was before cancer.

"And if you happened to see her in the past year, frail and bald and as direct in the eye as ever,
you knew that there was no effacing the knowledge of death, or the fresh understanding of life
that that knowledge gives.

"Elizabeth Murray's death is enough to teach you how separate and undisclosing an artist's work always is. And it reminds you how imperfect the very idea of artistic expression is. We know the work rises from within her, but it doesn't describe her or capture her. Perhaps it's best to say simply that it expresses what she thought it was possible to express with the toolsshe chose. It was central to her idea of herself, and yet the reference it makes to the living woman will now become more and more oblique. The work will live on in the durable world.

But the memory of the artist lives on only in us,
who are made of the same impermanent stuff that she was."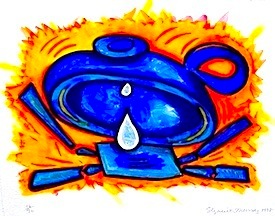 ~
VERLYN KLINKENBORG



14 August 2007
• • •
"It's a disease -- being an artist. They cannot do anything other than what they are doing." ~ TERRY DINTENFASS
"Remember I'm an artist. And you know what that means in a court of law. Next worst to an actress." ` JOYCE CARY

"There are two men inside the artist, the poet and the craftsman. One is born a poet. One becomes a craftsman."
~ EMILE ZOLA

"It is almost as safe to assume that an artist of any dignity is against his country, i.e., against the environment in which God hath placed him, as it is to assume that his country is against the artist. The special quality which makes an artist of him might almost be defined, indeed, as an extraordinary capacity for irritation, a pathological sensitiveness to environmental pricks and stings. He differs from the rest of us mainly because he reacts sharply and in an uncommon manner to phenomena which leave the rest of us unmoved, or, at most, merely annoy us vaguely. He is, in brief, a more delicate fellow than we are, and hence less fitted to prosper and enjoy himself under the conditions of life which he and we must face alike. Therefore, he takes to artistic endeavor, which is at once a criticism of life and an attempt to escape from life.

"So much for the theory of it. The more the facts are studied, the more they bear it out. In those fields of art, at all events, which concern themselves with ideas as well as with sensations it is almost impossible to find any trace of an artist who was not actively hostile to his environment, and thus an indifferent patriot."
~ H.L. MENCKEN

"Our job is not to amuse our readers. Our mission is to stir them, inform and inflame them. Our task is to continually
hold up our government and our leaders to cleareyed analysis, unaffected by professional spin-meisters and agenda-pushers. In these times, when those of us who are members of the 'reality-based community' are under relentless attack from both the right and the left, we must encourage, and our work must reflect, independent and nonideological thinking."
~ TONY AUTH
"I have a compulsion to paint, or draw, or paste, or form, or combine, or twist, or scratch, or scrape, stamp,
or glue or more, if I discover how.... I must work hard; though well into my eighth decade, I am still a young painter
and feel the need to make up for all the years I spent doing other necessary things." ~ REBECCA RIKLEEN
"Nobody makes you do it." ~ GEORGE McNEIL

"Nothing right can be accomplished in art without enthusiasm." ~ ROBERT SCHUMANN

"To send light into the darkness of men's hearts - such is the duty of the artist." ~ ROBERT SCHUMANN

"The artist is a blessing unto others-a curse unto himself." ~ CARL JUNG
"Art is a kind of innate drive that seizes a human being and makes him its instrument. The artist is not a person endowed
with free will who seeks his own ends, but one who allows art to realize its purpose through him." ~CARL JUNG

"So many of our dreams at first seem impossible, then they seem improbable, and then, when we summon the will,
they soon become inevitable." - Christopher Reeve
"Art is the most intense mode of individualism that the world has known." ~ OSCAR WILDE

"Few people know how to see, to see well, to see fully." ~ PIERE BONNARD
"In whatever one does, there must be a relationship between the eye and the heart. One must come to one's subject
in a pure spirit. One must be strict with oneself. There must be time for contemplation, for reflection about the world
and the people about one." ~ HENRI CARTIER BRESSON
"Talent develops in quiet places, character in the full current of human life." ~ GOETHE
"Millions long for immortality who do not know what to do with themselves on a rainy Sunday afternoon." ~ SUSAN ERTZ

"The difference between genius and stupidity is that genius has its limits." ~ ALBERT EINSTEIN
"Fame has also this great drawback, that if we pursue it, we must direct our lives so as to please the fancy of men."
~ BARUCH SPINOZA
" None are more taken in by flattery than the proud, who wish to be the first and are not." ~ BARUCH SPINOZA
"A lover of solitude, he nevertheless surrounded himself with with admiring friends." ~ WILLIAM GRIMES
"Just before his death, he [Michelangelo] burned a large number of his drawings, sketches and cartoons
to prevent anyone from seeing the labours he endured ... for fear that he might seem less than perfect." ~ GIORGIO VASARI
"I am an artist. I am afflicted." ~ TRACY LEE
"Those critics who, in modern times, have the most thoughtfully analyzed the laws of aesthetic beauty, concur in maintain
that the real truthfulness of all works of imagination--sculpture, painting, written fiction--is so purely in the imagination,
that the artist never seeks to represent the positive truth, but the idealized image of a truth."
- Edward George Earle Lytton Bulwer-Lytton
"Even when I enter into a room to pay a simple morning call I have unconsciously the habit of regarding the scene as if
I were a spectre not solid enough to influence my environment." - Thomas Hardy
"I want to be an artist, that's all." - Eugene O'Neil
"Historically, artists possess a critical and discerning intellect with the ability to see through layers of illusion
to the underlying truth." - C. J. Collins
"It's wonderful to be famous as long as you remain unknown." - Edgar Degas
"I'm not an actor. What does it mean, 'celebrity'? I call myself an 'artisan'. Anyone with sensitivity is potentially an
artist. But then, you must have concentration besides sensitivity." - Henri Cartier-Bresson
"Painting for me is a compulsive act. The only things that break its continuity are other compelling necessities,
such as writing, housekeeping, meetings and teaching." - Anthony Toney
"Some artists are destined to endure the hazards of ' interesting times' ." - Hilton Kramer
"Symptoms of the artistic temperament should be fought to the death." - David Graham Phillip
"Artists are, above all, men who want to become inhuman."- Guillaume Apollinaire

"[Art is] an attempt to escape from life." - H. L. Mencken
"Nor do I think that artists can necessarily be held to the standards of decorum of historians." - Diana Wright
"Dealings with artists, for instance, require great prudence; they are acquainted with all classes of society,
and for that reason dangerous; they are hardly ever satisfied, and when you have too much to do with them,
you are sure to have des ennuis." ~ King Leopold of Belgium to Queen Victoria
"Well, art makes an interesting life. Sometimes we paint; sometimes we don't. But we never stop seeing the world
through artist eyes; never stop processing information through an artist brain.." - Joanne Mattera
"I can't tell you if genius is hereditary, because heaven has granted me no offspring." - James McNeil Whistler
"Great art is always about human nature." - Michael Kimmelman

"Every portrait that is painted with feeling is a portrait of the artist, not of the sitter." ~ Oscar Wilde

"Everything is autobiographical and everything is a portrait." - Lucian Freud
"Describe not the object itself but the effect it produces." - Stéphane Mallarmé
"Color has taken hold of me. I don't have to try to capture it. It will posses me always.
That is the meaning of this happy hour. I know it. Color and I are one. I am a painter." - Paul Klee
"The painter should be solitary and consider what he sees and speak with himself,
choosing the most excellent parts of everything he sees. he should be as a mirror and
change himself into as many colors as there are in the things that appear in front of him.
In doing so he'll seem to himself a second nature." - Leonardo
"Do not defend your [art]. This is your chance to sit back and to observe what [viewers] make of your [work].
It is not the time to tell them that they have misunderstood it or to otherwise try to defend it.
In the "real" world, you will not be able to follow your [art] around and explain it or answer criticism.
If [viewers] do not understand what you have [done], you need to ask yourself whether that is because
they are weak [viewers]... or whether it is because there is something in your work that is confusing,
unclear or just plain mistaken. While you cannot really control [viewers], you can make your [artwork] clearer,
easier to read and more persuasive without sacrificing integrity. In the process, you will become a better [artist]."
- Michael Pettinger
"I make little claim to being an artist in the romantic sense of that mauled and blurred word. I am a fine craftsman."
~ Robertson Davies in What's Bred in the Bone

"The artist's world is limitless. it can be found anywhere, far from where he lives or a few feet away.
It is always on his doorstep." - Paul Strand
"The consummate artist conjures up the imageof a human being that will live on in the richness of its
emotional texture when the sitter and his vanities have long been forgotten." - E.H. Gombrich

"Los artistas son personas complicadas, no tienen que ser unos santos. No hay que idealizarlos. Importan sus obras, no sus vidas." - Mario Vargas Llosa in Los cuadernos de Don Rigoberto

"One's mind is the world. Those who give expression to it are what we call artists."
- J. D. Landis in Longing

"All that we see or seem is but a dream within a dream." ~ Edgar Allen Poe
"To create a work of art is to create the world." - Wassily Kandinsky
"I want to go out and see if I can just forget about art and art history and go out with a brush and try to do some honest painting." - John Myatt
"Sometimes, when I've been staring too hard, I've noticed that I could see the circumference of my own eye."
- Lucian Freud
"Art is the expression of experiences and discoveries meaningful to humanity." - Anthony Toney
"So may night continue to fall upon the orchestra, and may I, who am still searching for something
in this world, may I be left with open or closed eyes, in broad daylight, to my silent contemplation."
- Andre Breton
"My greatest obstacle has always been me." - Robert Coane
"I refuse to adapt or integrate myself." - Imre Kertesz

"One cannot start a new life, you can only continue the old one." - Imre Kertesz

"Blessed are the artists who, owing to family history, innate talent and an indomitable will,
are born to their vocation. What a lot of false starts, wasted energy and deferred achievement
they are spared!" - Hilton Kramer

"There are men whom nature has made small and insignificant but who are so fiercely consumed by emotionand ambition that they know no peace unless they are grappling with difficult or indeed almost impossible tasksand achieve astonishing results." - Giorgio Vasari on Brunelleschi

"I don't want to be interesting. I want to be good." - Ludwig Mies Van Der Rohe

"The artist must try to raise the level of taste of the masses, not debase himself to the level of unformed and impoverished taste." - Diego Rivera

"Most artists have one idea, or maybe two. In the best circumstances, that's enough for a career."
- Michael Kimmelman
"There is service to art which goes beyond convenience." - Daniel C. Dugan
"If I were certain that all my paintings would be burned, I think I'd go right on painting -- yes, I'd go right on painting..."
~ Georges Braque
"So now he occupies a niche, like most artists worth remembering, based on only a few years' work
that nevertheless still speaks to us."- Michael Kimmelman

"Millions of artists create; only a feware accepted or even discussed by the public, and of those,
even fewer are consacrated by posterity." - Marcel Duchamp
"Artists...are different from other people, they feel things more." - Barry Unsworth
"An artist at work is merely mad; an artist not at work is wholly mad." - J. D. Landis in Longing
"For some artists, not working is just a less productive, more tormented form of working." - Roberta Smith

"It is pointless to paint. It is futile to paint well." ~ Robert Coane

"But Art, my dear Cornish, is a cruel obsession, as you may yet learn."
- Robertson Davies in What's Bred in the Bone

"[Art's] what exalted you, and {art's} what cast you down." - J. D. Landis in Longing (Paraphrased)
"He who is born with a talent for a talent finds in it his happiest exhistance." - Goethe

"How do we know we are artists? ...All one can express at any moment is himself... What if I have merely suffered as an artist but, in the end, produced nothing that might be called Art?"
- Robert Schumann
"He is one of those curious cases of a coarse man capable of making the sweetest art, as if a hard outer shell were protection for a soft heart." - Michael Kimmelman
"I don't go along with the idea that every mark an artist makes is significant. That would be arrogant."
- Howard Hodgkin

"His art seemed dangerous to man but entailed a vulnerable openness on (Caravaggio's) part, an exquisiteness of feeling that would've had some need of social armorfor going about the ordinary business of life."
- Peter Robb in 'M', The Man Who Became Caravaggio
"My honors are misunderstanding, pesecution and neglect, enhanced because unsought."
- Thomas Eakins
"No man, and least of all myself, could ever disentangle the feelings that animated him."
- Thomas Eakins

"No question, Chardin was one of the greatest artists who ever picked up a brush - and all the greater for paintin without the attributes of greatness... There was nothing extraordinary about his career except the beauty of the works it produced." - Robert Hughes on Jean-Siméon Chardin

"I am a perfectly straightforward character with all my cards on the table. But there are so many cards." - Picasso

"Anyone else will have all of my faults but none of my virtues." - Picasso

"When I was a child, my mother said to me, 'If you become a soldier you'll be a general.
If you become a monk, you'll end up as the Pope.'
Instead, I became a painter and wound up as Picasso." ~ Picasso
"I think art is an obsession with life and after all, as we are human beings, our greatest obsession is with ourselves."
~ Francis Bacon

"To be an artist at all is a form of vanity." - Francis Bacon

"If you ask me what I came to do in this world, I, an artist, I will answer you: I am here to live out loud!" ~ Émile Zola
"Like any monomaniac, Gauguin was in the Gauguin business, aggressively, competitively, full time... he labored to orchestrate his European reputation from several oceans away. It was a demanding job. It entailed not only creating art of extraordinary quality, but also inventing a persona with which to promote it."- Holland Cotter
"Generosity is a powerful spur to talent." - Giorgio Vasari
"Most of the Goyas we rightly regard asmasterpieces were not seen by the public in the artist's lifetime." - Robert Hughes
"In the true artist, Art and life were one." - J. D. Landis in Longing
"If you want to live as an artist - just live...just be." - Mikhail Priorov
"Rubens was a happy man of action who was also a painter of genius. Velázquez was a true professional." - Kenneth Clark
"Ars longa, vita brevis." - Latin Proverb

"An artist's time limits him." - Clifford Still

"Do not define today. Define backward and forward, spatial and many sided. A defined today is over and done with."
- Paul Klee

"The past is of no importance. The present is of no importance.
It is with the future that we have to deal.
For the past is what man should not have been.
The present is what man ought not to be.
The future is what artists are." - Edmond De Goncourt

"Art is all tied up in time. Time is its subject and its substance. Art records time, measures it, manipulates it,
invents it. Art also exists in time, is composed of it, is swallowed up in it. The idea of timeless art is sweet.
But there is no 'timeless.' And the longer a piece of art outlives its time, the more clearly it speaks of ephemerality,
what is or will be gone." - Holland Cotter
"Talent can have an expiration date." - Michael Kimmelman

"A child, one has to be, to think that an artist is something useful." - Paul Gauguin