www.Atelier-RC.com
ROBERT COANE
- SHOW INSTALLATIONS & STUDIO ACTIVITIES -

"

game is not about worldly success. The real game is between oneself and the canvas,
to end up with a canvas that is no less beautiful than the empty canvas is to begin with."
~ Robert Motherwell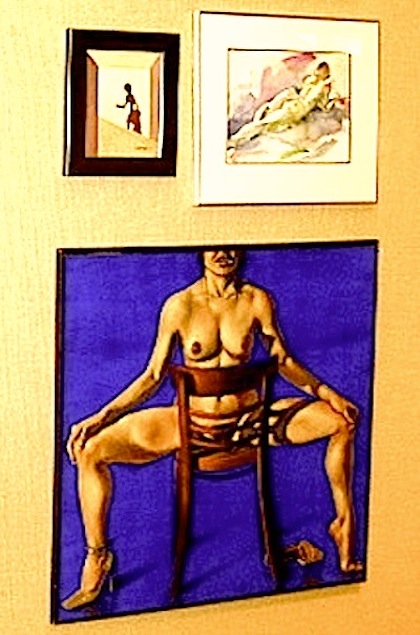 "The muse should be as charming as she is unobtainable."
~ Stacy Schiff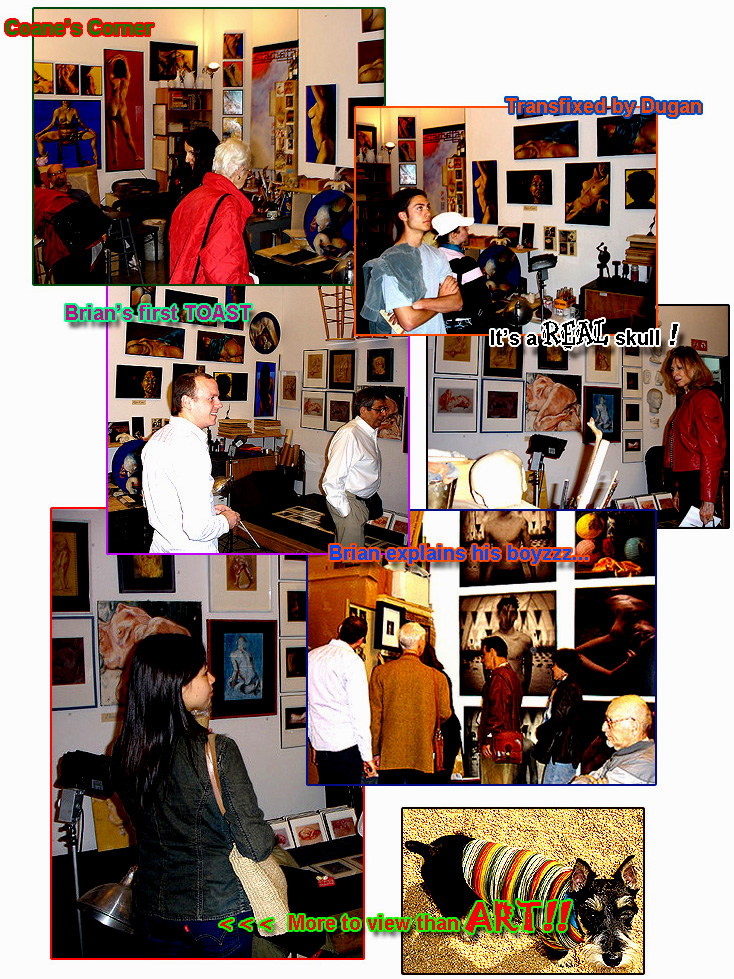 "Here in the studio, I work on half a dozen paintings and I am drawing and thinking about my course,
everything together. For it has to go together. Otherwise, it wouldn't work at all."
- Paul Klee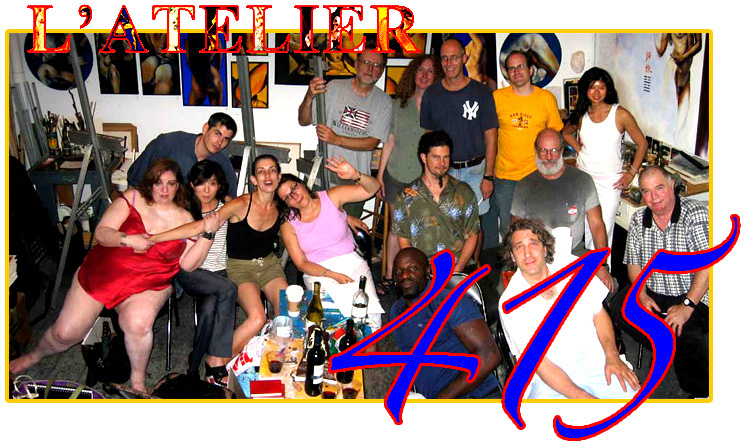 20 July 2004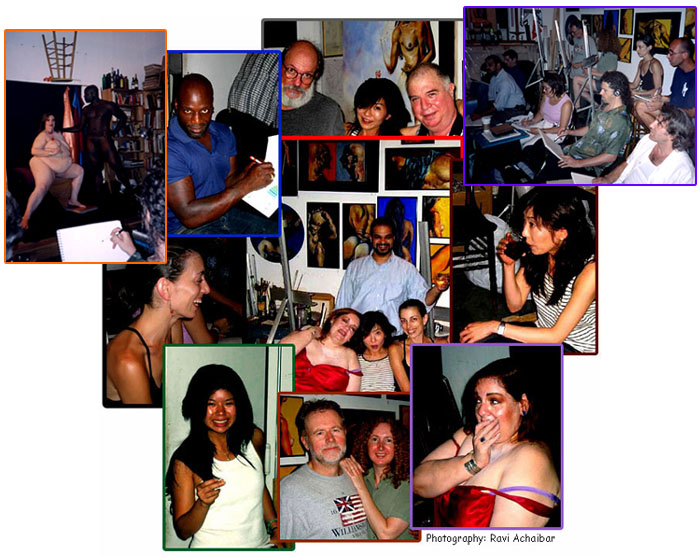 "We invite each other not to eat and drink, but to eat and drink together" - Plutarch
Photos: Guy Catelli


Sonoko Sugiyama picks the winner
assisted by Kay Lin and Doug Rice

Robert Coane with winner Rodrick Meyer



"Also, always try to get an advance, even from princes." - Judith Merkle Riley in The Serpent Garden
THE COLOR
~FLESH~
NYC
November
2003
"Before you can learn to walk on a tightrope, you must learn to walk on the ground."- Henri Matisse
YOUNG PEOPLE'S FIGURE DRAWING WORKSHOPS
for
St. Francis Preparatory School
Fall 2003
"A child...One has to be, to think that an artist is something useful." - Paul Gauguin
MASTER
WORKSHOPS


St. Petersburg FL
THE COLOR
~FLESH~

26 & 27 April
2003
"Now I have given you a compass by means of which, with nature as a professor, you can steer yourself."
- August Rodin
Daniel C. Dugan at L'Atelier

Photo: Samm Cohen



...and the lucky winner is ...

Contest
Prize

Study of
M. Yasumoto #2

Photo: Samm Cohen


...PHILLIS CONIGLIO of Massapequa!!!
"Art is a potent social tool. Almost magically, ownership bestows status, turns nobodies into somebodies
and makes those somebodies look classy and smart or, at the very least, rich. Yes, art is about ideals and
beauty and all that. But it is also about the power of possession, the sovereignity of taste. Deep down, it appeals
to the royalist in us all ...art becomes what it may always really be:not the potentially transformative vision
of romantic lore, but an emblem of preciousness; a badge of attainment; a collectible to have, hold and marvel at;
an enviable jewel in a fortunate somebody's crown." - Holland Cotter
St. Petersburg FL
THE
COLOR
FLESH~



~ 13 September to 25 October 2002 ~



"The hardest part of a painting is getting the money for it, which never gets any easier no matter how
many pictures you make." - Judith Merkle Riley in The Serpent Garden
| | |
| --- | --- |
| | Photo: Thomas Chi |
| | |
| | Photo: Thomas Chi |
| Dan Dugan at L'Atelier | Photo: Thomas Chi |
"The artist as businessman is uglier than the businessman as artist." - Ad Reinhardt

FOCUS
ON
THE
FIGURE






Edward Hopper
House
Nyack NY

April 2002
"I don't paint for a living. That's how I live."
-Willem de Kooning
THE FRAGMENTED FIGURE
Wright Gallery
New York City


January - February 1998

"Poor artist! You have put a fragment of your soul into this canvas which you have come to sell."
- Paul Gauguin on Van Gogh

Artists Talk Back
RECLAIMING HISTORY
25th Anniversary Exhibition
El Museo del Barrio
New York City
1994
YOLTEOTL II
Tweed Museum
Duluth, Minnesota
October 16 to November 28 1993
from the Catalogue Essay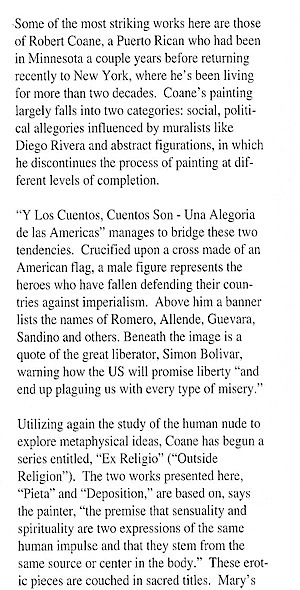 Martin DeWitt, Director


"If it's not political, it's not Art."
~ Diego Rivera

YOLTEOTL
Minneapolis Institute of Arts
Minneapolis, Minnesota
1992
"It is important that you find where your heart lies because your art will surely follow."
- Hereward Lester Cooke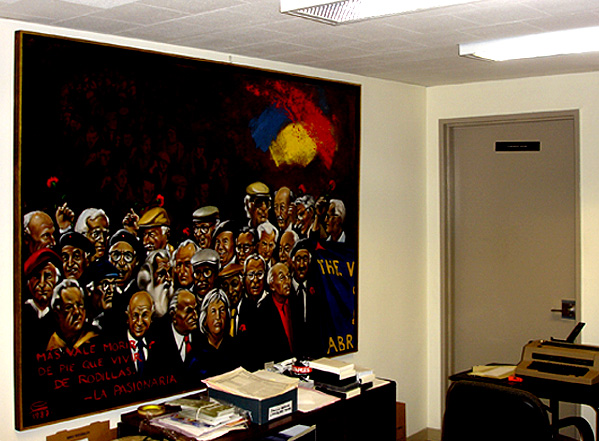 THE RETURN:
A Homage to the International Brigades on the 50th Anniversary of the Spanish Civil War
hanging at the office of the director of the Tamiment Library & Robert F. Wagner Labor Archives
at New York University, home of the Abraham Lincoln Brigade Archives (A.L.B.A.)

Dedication of
THE RETURN
Veterans of the
ABRAHAM LINCOLN BRIGADE
51st Anniversary Dinner
24 April 1988, New York City
"Lucky as I am, I've been able to hang on to most of my work." - Douglas Vogel
ROBERT COANE2002 - 2011 © All rights reserved