ROBERT COANE
- A LESSON PLAN -
BASIC PRINCIPLES AND TECHNIQUES IN ART EDUCATION
"Before you can learn to walk on a tightrope, you must learn to walk on the ground."
- Henri Matisse
Because you can't get to this ... if you can't do this.
PICASSO: Last Self-Portrait
P

PICASSO: Entrance exam drawing
to the Barcelona Academy
As study for other works
| | |
| --- | --- |
| | |
| | |
Boucher

Recumbent Nude Female

Odalisque

Blonde Odalisque

Leda and the Swan
BACK TO THE TOP
"The most captivating and imaginative painter to have lived since Giotto would certainly have been
Paolo Ucello, if only he had spent as much time on human figures and animals as he spent,
and wasted, on the finer points of perspective."
- Giorgio Vasari

William Etty
Salvador Dalí
Pontormo
"I'm in the habit of sculpting my marble children first without clothes...
Later I only have to throw a cloth over them and everything vibrates at the points
where it touches the body; thus the figure is made of flesh and blood, not a cold effigy."
- August Rodin


"My nudes are done, which is to say that the bodies benerath the draperies are done...
You see, it is the part one doesn't see, the most important part, which is finished."
- August Rodin
"Do not draw bodies looking like a sacks of chestnuts." - Leonardo Da Vinci
Michelangelo
"Less is more." - Ludwig Mies van der Rohe
"The secret is knowing what to leave out." - Steve Jobs

BACK TO THE TOP

DEVELOPEMENT OF
COLOR IN WESTERN ART
"S
ometimes I think that the heavens have opened up and what has come down is color,
sound and music. That is what painting is all about." - Hans Hoffman
BAROQUE
Rembrandt

IMPRESSIONISM
Monet
POST-IMPRESSIONISM
Van Gogh

FAUVES
Matisse
ABSTRACTION
Kandinsky

COLOR FIELD
Rothko
| | | |
| --- | --- | --- |
| Local Color | Cezánne | Optical Color |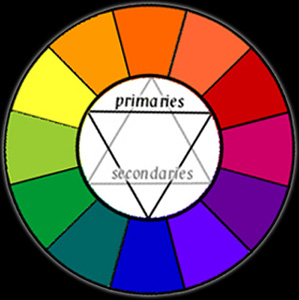 MONOCHROMATIC
COLOR SCHEMES
COMPLEMENTARY
COLOR SCHEMES
PERCEPTION
The Way We See
What's wrong with this picture?
Scroll down for answer.
Leonardo da Vinci
Arcimboldo: The Vegetable Gardener


Recognition: What is this?
Scroll down
Denis Achacoso

BACK TO THE TOP


PATTERNS
in Composition
All works by R. Coane
"Most artists have one idea, or maybe two. In the best circumstances, that's enough for a career."
- Michael Kimmelman, New York Times

| | |
| --- | --- |
| Study of Hsin-Hsin #1 | Study of an Eggplant |
| | |
| --- | --- |
| Top: Study of Jen-Chin in Green Robe #2 | Bottom: Study of Four Apples |
| | |
| --- | --- |
| Santander Study | Study of K-Y Ling #2 |
| | |
| --- | --- |
| Top: Study of Jen-Chin in Green Robe #1 | Bottom: Study of a Chubb and Limes |
BACK TO THE TOP
PATTERNS
in Shapes
All works by R. Coane
THE PAINTING PROCESS
FROM SKETCH TO FULL RENDITON
"T
he first object of the painter is to make a flat plane appear as a body in relief
and projecting from that plane.''
- Leonardo da Vinci
ROBERT COANE
Study of Ling #3
"There is a species of emotion particular to painting. There is an effect that results from a certain
arrangement of colors, of lights, of shadows. It is this that one calls the music of painting.

- Édouard Vuillard
"The academic disciplines of art history and studio art expose students to culturally important bodies of knowledge, train them in skills of analysis and synthesis and teach them modes of professional conduct. But there is a deeper way art educates: like literature, music and dance, it educates the imagination and, in so doing, deepens and refines awareness of how inert physicality may be brought to life by human touch."
- Ken Johnson
BACK TO THE TOP



ROBERT COANE © All rights reserved